FORRESTER: Business Resilience –More Than an IT Thing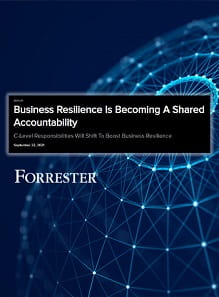 Shared Accountability Secures Success
Organizations with more-mature resilience capabilities grow 2.5 times faster than their competitors; it's easy to see how business resilience has become a competitive advantage. Business Resilience is Becoming a Shared Accountability, a report by Forrester, explores how c-suite leaders, operations-focused executives and teams across the organization must partner with the CIO to achieve true resilience. The report also outlines emerging technologies that fuel the future of business resilience.
What You'll Learn
Why business resilience is straining IT relationships
How to forge a path to a more modern and innovative organization
Five technologies that are driving the future of resilience
Get your complimentary report today.