Global Manufacturing Organization Modernizes ITAM Strategy With ServiceNow
This global manufacturing organization has been supplying in-demand parts for commercial vehicles for over a century – delivering safe and reliable parts is the core of their mission.
And like other manufacturing organizations, the company has had to adapt to an ever-shifting landscape, all while keeping the lights on. By modernizing their ITAM environment in ServiceNow, this manufacturer could optimize software spend, eliminate waste and redistribute software budgets to better support strategic initiatives moving forward.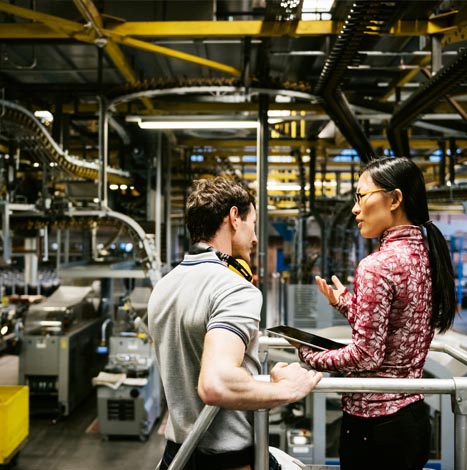 Broken channels of communication, lack of actionable data and manual processes continue to plague manufacturing firms of every type – even those who have an existing
digital transformation roadmap
in place. This manufacturer was running the day-to-day business as efficiently as possible, all with the understanding that the need to transform loomed larger in the distance.
Then an audit brought a new
sense of urgency
to transformation efforts. Accustomed to using outdated tools and processes to track and manage their software assets, the company found that a large sum could not be located. They immediately set out to gain a better handle on its software assets.
Automation was the only viable solution.
Establishes a foundation for SAM and APM in ServiceNow
Increases visibility into software utilization and entitlements
Aligns the organization to best practice for application management and rationalization
Implementing a modern SAM solution
Already a ServiceNow customer, the company sought to overhaul an entire IT Asset Management (ITAM) environment to locate missing assets and drive efficiency gains and ensure future scalability.
Manually collecting software asset data from multiple sources and keeping it updated and accurate was next to impossible, no matter how much time and resources they allocated. They recognized that the ServiceNow platform could be the key to modernizing and optimizing asset tracking across the enterprise.
In addition to having an outdated Asset Management environment, the company struggled with silos within its IT organization and lacked a centralized, well-managed CMDB environment. They craved guidance on how the platform could be best leveraged to ensure future scalability and efficiency.
Soon after starting, the company found that the foundation they already had in place was not as stable or scalable as they needed it to be. It sat on an unstructured CMDB and business processes. They needed a partner who could repair their CMDB and implement a scalable ITAM solution that would solve their Software Entitlement worries. NTT DATA became that partner.
Trusting in ServiceNow would help them drive down software costs, dramatically reduce compliance risk and help them better use their existing software assets. ServiceNow had the added benefit of playing nicely with the manufacturer's existing tech stack, integrating seamlessly with other vendors and third-party apps.
Empowered to grow sustainably with ServiceNow
The team established a foundation for SAM and Application Portfolio Management (APM) in the manufacturer's IT environment to increase visibility into software utilization and entitlements. The project focused on the business processes and foundation needed to mature their ITAM strategy and ensure sustainability, especially regarding SAM.
It's even helping their core IT team diagnose and identify their environment more easily and efficiently.
This project was an integral part of the manufacturer's overall mission to future-proof their ITAM strategy. They can now confidently pass any audit and has successfully simplified the overall business processes that handle those audits. They now have a proactive asset management strategy to help them run their business in a more sustainable way.
A global manufacturer of automotive parts transformed outdated processes by implementing a modern SAM solution with ServiceNow taking a starring role.
Headquarters
United States